Blue Beetle was the alias of crime-fighting vigilante Jaime Reyes.
History
In "Rise of the Blue Beetle!", Jaime came to be an ally of Batman. Together they saved the Gibbles from Kanjar Ro.
Powers and Abilities
When in his Beetle suit, Jaime can:
Create giant blaster guns
Create Wings and Fly
Make his body flexible and more powerful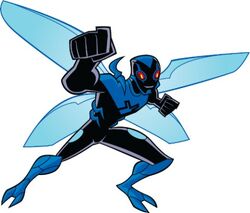 Equipment
Appearances
See Also
Ad blocker interference detected!
Wikia is a free-to-use site that makes money from advertising. We have a modified experience for viewers using ad blockers

Wikia is not accessible if you've made further modifications. Remove the custom ad blocker rule(s) and the page will load as expected.